Submitted by
B-Khush
on Sun, 05/18/2014 - 14:31
Posted in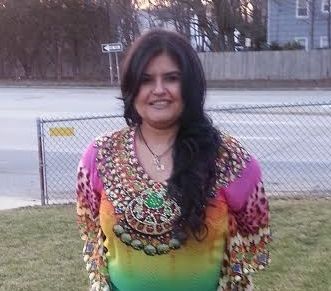 "If you can't fly then run, if you can't run then walk, if you can't walk then crawl, but whatever you do, you have to keep moving forward." – Martin Luther King, Jr.
Our column "Innovative Minds" is a celebration. It's a column where we will talk to all those fresh, talented women entrepreneurs who are following their passion...chasing their dreams...and making a difference by inspiring others.
This week we chatted with Sheetal Khanna, the proud owner of "Sassy International" a brand that connects with the ongoing trends with an Indian twist.
Sheetal, tell us about yourself.
I was born and raised in Elmhurst, NY (queens), I am the youngest of five siblings, my mother always wanted to open up her own business but due to lack of funds, and society it didn't happen. So when I was born she had made the decision to make me like her strong, vibrant, inspirational and a women business owner. She helped me get in to the private school called LIM college where I got my bachelors in fashion merchandising. Then, started working in the industry for 10 yrs and got the knowledge that I wanted before I started my own brand. The rest is history.
Who or what inspired you to start "Sassy International"
My mom is the inspirational person behind my brand, she was always a very pure soul with a Sassy-ness in her dressing. She wanted me to be internationally famous.
Tell us about your fashion line? Do you design yourself?
Sassy Intl .is a Trendy, Classy and Fresh with a Indian Twist Fashion Apparel Brand, dreamed by me a Fashion Merchandising Graduate from LIM , New York City. Sassy Intl. is upscale brand that produces chic clothes for an Urban/Modern minded Clientele. It connects to the ongoing trends yet carrying the Classics around. We believe that fashion is Re-born and it Evolves from clichés.At Sassy Intl., we choose our silhouettes, designs, colors and fabrics giving special concern to the Indian market going Global.It carries an emotional connect with its every garment through meticulous attention to detail and quality. It believes that everyone is beautiful and we believe in making the better the best. Beautiful soft flowing tunic & kaftan that can be worn as a dress, on jeans, leggings, as cover up or even as a night gown. However you would like to feel beautiful and sexy.I design, stitch my collection.
What according to you is the "Wow" factor of your collection?
Hmm, that is tough I would say the WOW factor is that I got such a great response of my designs when I did a fashion show last February 2013 that was my biggest WOW factor for my brand and designs, also getting zulily.com to show my collection on their site.
What is the age group that your fashion line caters to?
It's designed for ages 13 and 55
Is there a reason that you only focus on Kurtis and Kaftans?
Yes, because I personally love wearing them and can't find the ones I like in stores and you can wear them on jeans, leggings, as a beach cover up, as dress or just lounge around in them. It just makes you feel beautiful and sexy all in one.
A message for the aspiring women entrepreneurs.
Help each other out, and network we all work together since we are all doing the same thing.
As a woman entrepreneur did you face any challenge so far?
Yes, I did when I was trying to find funding and advertising my collection but at the end all falls into place soon enough.
The upcoming events of Sassy?
Yes, I am doing a fashion presentation event on June 5th in NYC, another one on June 6th And many more to come!!!
A sneak peek into Sheetal's world of Sassy Kurtis and Kaftans :