Submitted by
B-Khush
on Sat, 09/19/2015 - 11:58
Posted in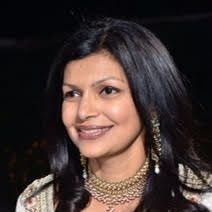 If you can't fly then run, if you can't run then walk, if you can't walk then crawl, but whatever you do, you have to keep moving forward." – Martin Luther King, Jr.
Our column "Innovative Minds" is a celebration. It's a column where we will talk to all those fresh, talented women entrepreneurs who are following their passion...chasing their dreams...and making a difference by inspiring others.
This week we had the pleasure of talking to Reena the proud owner of "ReeMat Designs". Their jewelry pieces are handcrafted by artisans in India and designed or curated by them. The brand believes that "Creativity involves breaking out of established patterns in order to look at things in a different way."
Reena, tell us about yourself. Who or what inspired you to start your boutique?
I come from a family of engineers and was raised in Mumbai. I hold a Bachelor's Degree in Civil Engineering from Bombay University. I moved to California in 1989 for graduate study and hold a Master's Degree in Construction Management from Stanford University. My husband was studying at U. C. Berkeley at the same time and we met in the Bay area. Despite attending rival schools we got married. After working in the Bay Area for several years, my husband and I moved to the east coast where I worked on various construction projects for the city of New York. Priorities soon changed and mommy mode took over. In addition to our two kids, building our new home became a full time project and our "third baby". I also got involved in various charities and co-chaired fundraisers.
Growing up in the eighties in India, your career choices were pretty clear…..if you were academically bright, you either became a doctor or an engineer. So I finally decided to break the mould and in between being a full time mom, I started designing and curating custom statement jewelry pieces for myself, working with friends in India. It was something very creative and very satisfying. Soon, I found myself designing and curating for friends and family. Their encouragement led me to launch ReeMat Designs.
Tell us about about your brand. What makes it unique?
"Creativity involves breaking out of established patterns in order to look at things in a different way."
Our statement jewelry pieces are handcrafted by artisans in India and designed or curated by ReeMat Designs. These works of art are crafted using various materials including semi-precious stones, pearls, wood, kundan (indian gemstone), and even paper. Each piece is painstakingly designed and has a "fusion twist" to it, combining contemporary with classic.
Our mantra is "Jewelry with a Cause", so we donate to charitable causes while we grow.
Apart from creating our very own designs, we have also teamed up with five design workshops in India, and artists in Delhi and Singapore. Our stone collection is currently being displayed at high end boutiques in California and New Jersey.
We have 6 different collections, each unique in its own way.
1. The Legacy: Inspired by traditional heirloom pieces, our workshops in India will customize handcrafted treasures for you.
2) The Stone: A stunning collection, shaped by the stones and minerals sourced and artfully handcrafted in the deserts of Rajasthan.
3) The Paper : Color your dreams with this unbelievable collection painstakingly crafted out of beautiful pieces of recycled paper and strung with gorgeous crystals or beads. This collection is a favorite amongst models and celebrities worldwide.
4) The Weave : Artists use fine brass plates and intricate embroidery to create super light handcrafted art that should not be missed.
5) The Bead : Dedicated to the colors and vibrant streets of India, this collection is an array of designs ranging from classic pearl necklaces to contemporary pearl lariats and scarfs.
6) The Fun : Designed with just one aim in mind – 'to put a smile on your face!' Vibrant colors, fun materials and irresistibly priced! Go ahead and define your style!
What is the age group that your brand caters to?
Our six collections are directed to almost every age group ranging from 'The Fun" collection for the younger audience to 'The Legacy' for the mature age group. Our collections are for anyone who wants a unique and bold statement piece.
A message for the aspiring women entrepreneurs.
"Follow your dreams…it's never too late"
"Enjoy what you do….no matter what the outcome"
The upcoming events/announcements :
We hosted a trunk show at the Maitri Boutique, Sunnyvale, CA in August 2015. A portion of the proceeds was donated to Maitri. We also hosted a trunk show in Fremont, CA in August 2015. We will be participating in San Francisco Community Fashion Week on September 26th. We have a fundraiser coming up in Demarest, NJ on October 4. We will be exhibiting at the Festival of Lights in Jersey City, NJ on October 24.We have many more events coming up.Come and visit us!
How can the readers get in touch with you?
By email: reena@reematdesigns.com
Website: www.reematdesigns.com
Please like the Facebook page at : facebook.com/ReeMatDesigns
Come take a peek at ReeMat's fabulous collection: