Submitted by
B-Khush
on Fri, 02/27/2015 - 09:05
Posted in
"If you can't fly then run, if you can't run then walk, if you can't walk then crawl, but whatever you do, you have to keep moving forward." – Martin Luther King, Jr.
Our column "Innovative Minds" is a celebration. It's a column where we will talk to all those fresh, talented women entrepreneurs who are following their passion...chasing their dreams...and making a difference by inspiring others.
This week we had the opportunity to talk to Jaya Subramanian, the proud owner of "Mi Tesoro"- A brand that brings a curated, diverse collection of one of a kind accessories and lifestyle products from across the globe for the discerning individual.
Jaya, tell us about yourself
I come from an Armed Forces background and spent my formative years living all over India. This helped me greatly in developing a cosmopolitan outlook towards life in general and gave me an immense appreciation for different cultures and traditions. I completed my Masters in Clothing and Textiles from MS University, Baroda, India and FIT New York. I worked as a Head Buyer for a number of years in India for ffolio, Bangalore - a leading Fashion House. I have been blessed to be able to work with truly creative individuals who have been leaders in the Indian fashion industry like Tarun Tahiliani, Rohit Bal, JJ Valaya, Anamika Khanna, Rajesh Pratap Singh to name a few.
I got married and moved to New Jersey 14 years ago. I worked with an Import House as a Buyer for a number of years before deciding to strike out on my own.
Who or what inspired you to start "Mi Tesoro"?
My love for all things beautiful and the ability to curate unique merchandise gave birth to the idea that I could channel this skill and share it with others. I wanted to create something from scratch to realize this vision and this led to the creation of Mi Tesoro ('My Treasure').
Tell us about about "Mi Tesoro", what makes it unique?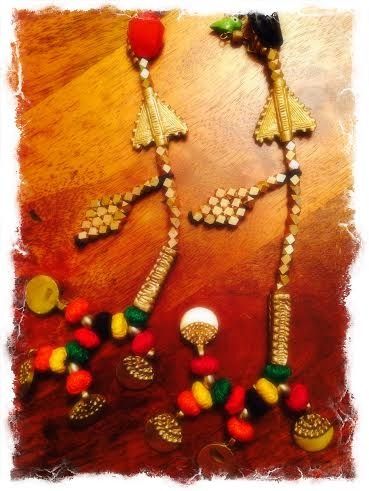 Mi Tesoro (translates to 'My Treasure' in Italian and Spanish) represents the start of an ongoing journey to promote a curated and diverse collection of one of a kind products from across the globe for the discerning individual. Our collections are focused on lifestyle products including artisanal and neo tribal jewelry, stoles, capes, stained glass products, bags etc and are mostly created by under-privileged women. Mi Tesoro aims to contribute towards making this world a better place for these individuals. The uniqueness of Mi Tesoro lies in the fact that I bring the best of different aesthetics under one roof for my customers.
What is the age group that your brand caters to?
We cater to everyone who loves the good things in life starting with great jewelry..
A message for the aspiring women entrepreneurs. A message for International Women's Day.
Be true to yourself and your beliefs and the world will follow.
The upcoming events
Mi Tesoro Bazaar on 5th April '15 – Shop the Spring/Summer collection.
How can the readers get in touch with you?
Please visit us on our Facebook page @ https://www.facebook.com/MiTesoroLLC
Or you can reach me at jaya.mitesoro@gmail.com
Come take a sneak peek into the colorful world of "Mi Tesoro"