Submitted by
B-Khush
on Sun, 10/11/2015 - 13:03
Posted in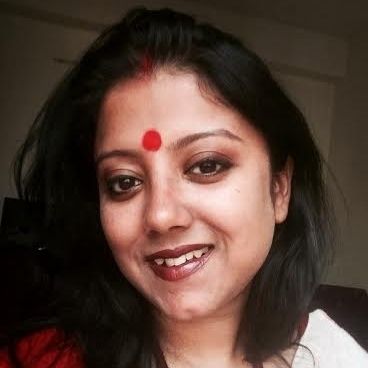 "If you can't fly then run, if you can't run then walk, if you can't walk then crawl, but whatever you do, you have to keep moving forward." – Martin Luther King, Jr.
Our column "Innovative Minds" is a celebration. It's a column where we will talk to all those fresh, talented women entrepreneurs who are following their passion...chasing their dreams...and making a difference by inspiring others.
This week we had the opportunity to talk to Debika Dasgupta, the proud owner of "Rupkawtha Ra" (The Fairytales). A brand that works mainly with antique silver pieces and semi precious stones and a lot of techniques and craftsmanship.
Debika, tell us about yourself
I was born and brought up in Kolkata. As a child I absolutely loathed academics. What fascinated me was nature, art, music and… exploring. I was and still am in love with any form of art.Though I pursued commerce, I eventually chose the creative line. I studied interior designing and worked as a designer for the first four years of my career. Then I moved to US and did a continuing course in ceramics and pottery. I grew up in a typical bengali family in Kolkata. As I child I was always encouraged to be creative by my family. Creativity came naturally to me. I loved singing and painting. Later, I tried my hands on photography and it helped me immensely while shooting for Rupkawtha Ra.
Who or what inspired you to start your boutique?
Rupkawtha Ra didn't happen in a day. It was a small dream that started growing inside me since I was a child. I obviously didn't know it would be a jewelry store. It could have been anything. A coffee shop cum library, a ceramic store, a landscape artist, a summer camp for the aged, a pet boutique… But Rupkawtha Ra : The silver shoppe happened.
Inspiration is everywhere. Im a self taught designer and inspiration is in learning, experiencing, conversations; Inspiration is in traveling. Be it a walk around the quaint little farmer's market in Luberon, France or a sunset from my terrace. Im also inspired by a lot of designers. All of them are doing wonderful work and that constantly keep me inspired.
Tell us about about your brand. What makes it unique?
As someone once told me, womanhood is a journey of evolving one's own style. So as I grew up the obvious question had to be dealt with. Should I be Manimalika with an obsessive love towards traditional gold ornaments from Tagore's Monihara, or that Bhil woman who adorns herself with bold tribal silver amulets and balis. I chose the latter.
Rupkawtha Ra works mainly with antique silver pieces and semi precious stones and a lot of techniques and craftsmanship. But when it comes to beads and stones with various colours, textures, shapes we love to experiment! For instance, in my last visit to Jaipur, I went to a stone polishing factory where I found some unpolished, rough stones kept in a side like a dump. I got them, and was utterly delighted to see how wonderfully they go with beautifully crafted silver things.
Rupkawtha Ra designs neckpieces, earrings, bangles, rings, and nose pins. We had fun doing bookmarks! Jewelled bookmarks for your treasured books. I guess, anything handmade is unique. Rupkawtha Ra's uniqueness lies in the simplest fact that they are very wearable, affordable, comfortable and meant for EVERY women.
What is the age group that your brand caters to?
Rupkawtha Ra is all about her customers. The great thing about jewelry is that it's overall look comes from how the wearer styles it. And I feel my Rupkawtha Ra women are extremely intelligent, traditional yet modern, and bold. So there is really no age group limitation. But just to give an idea, I have designed for both 12 years old and 64 years old.
A message for the aspiring women entrepreneurs.
If you want to do something on your own, then that is a reason enough to go about it. But you should also remember that not only you have to be creative for your product to stand out but also have to embrace the business side of it, which includes the production, marketing, and development. Be persistent, create relationships and dream BIG!
Upcoming Events :
Rupkawtha Ra will be organizing an exhibition in Kolkata on 27th of December. Please keep an eye on the Facebook page for timing and venue.
How can our readers reach you?
Come take a peek at the beautiful world of Fairytales - Rupkawta Ra