Submitted by
B-Khush
on Tue, 01/05/2016 - 23:51
Posted in
"If you can't fly then run, if you can't run then walk, if you can't walk then crawl, but whatever you do, you have to keep moving forward." – Martin Luther King, Jr.
Our column "Innovative Minds" is a celebration. It's a column where we will talk to all those fresh, talented women entrepreneurs who are following their passion...chasing their dreams...and making a difference by inspiring others.
This week we had the opportunity to talk to Vinaya Gokarn, the founder of Caravanserai, a travel event series and an online portal featuring curated travel talks, travelogues and travel blogs (https://www.facebook.com/Caravanserai-758536637585728/).
Vinaya, tell us about yourself
I was born and raised in Bombay, a city of million opportunities! Learning about our world through travel has been my passion ever since I was a little girl. Books and geography lessons in school were my dream space where I romanticized traveling to far off lands--places such as the prairies, the arctic, the silk road fascinated me. On rainy monsoon days in Bombay when my siblings and I could not play outside my favorite indoor game was to find new, fascinating and fun sounding places in my atlas. Also my love for outdoors, adventure and travel received a further boost through my girl guiding activities. While I was doing my Masters in History at the University of Bombay I was offered an excellent opportunity to lead a biking tour from Jaipur to Agra for a group of British travelers. Although it was meant to be just a one time deal, I never looked back and made a career in the travel world for the next 17 years. I worked in the travel industry in three different countries including the US, initially as a tour leader for an adventure travel company in India, then running operations and setting up travel destinations for airlines such as Gulf Air, and designing and marketing festival and culinary tours for a company in San Francisco.
When my son was born, globetrotting for work was not something I wanted to do and hence I changed my career and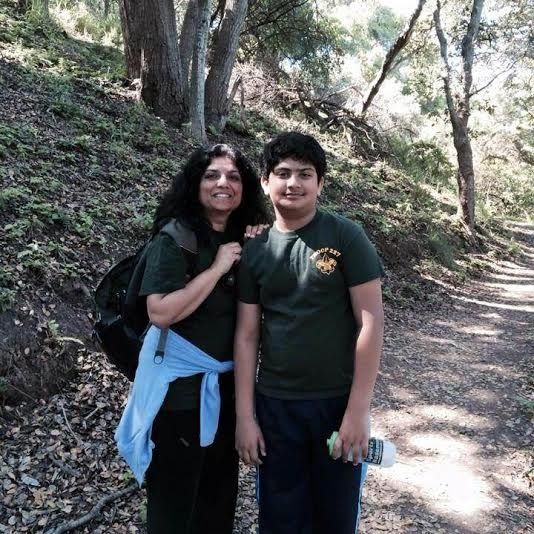 entered the world of academia. I have been working at UC Berkeley for the past 12 years. I have also served as an adviser for a college admission coaching startup called LifeLaunchr (
www.lifelaunchr.com
) for the past one and half years. LifeLaunchr is an online platform which provides parents and students affordable expert coaching and online tools for every stage of the college planning process. Here's an example of a valuable and affordable introductory service available on LifeLaunchr:
www.lifelaunchr.com/juniorjumpstart
. And now I am on to my next venture Caravanserai...
Who or what inspired you to start Caravanserai?
Caravanserai has been my dream for over a decade since I left the travel industry, I wanted to create a real and virtual space for storytelling for travelers. My dream became a reality when a friend introduced me to the owner of Duvin (
www.duvin.co
). Caravanserai's live events are called Caravanserai@Duvin a place for friends and travelers to gather and share our travel stories (see below the list of upcoming travel talks). The concept of this gathering is based on the ancient Caravanserai, along the Silk Road, which were filled with mystical stories of adventure, romance and magical places of their times. The online travel portal currently has a Facebook page which features travel stories. A web-site which is under construction (
www.caravanserai-travel.com
) will feature curated travel talks, travelogues and space for travel blogging.
A message for the aspiring women entrepreneurs.
Follow your passion and your dreams, work relentlessly towards your goals but most importantly have fun. Also expect disappointments but do not get defeated by them. I would also like to quote one of my heroes, Maya Angelou "My mission in life is not merely to survive, but to thrive, and to do so with some passion, some compassion, some humor and some style."
First Travel talk on Cinque Terre by travel writer Chris Wildgen in December 2015
The upcoming events of Caravanserai :
After our first travel talk on Cinque Terre by travel writer Chris Wildgen in December 2015, Caravanserai@ Duvin is excited to announce our line up of travel talks for the first half of 2016!
January 17: Peru and French Polynesia with San Francisco based artist and photographer Bill Lies (for more details see our 'Upcoming Event' section)
February 21: Revealing the natural beauty of Haiti and its people: Discovering the beauty within the chaos with Lisa McFadin. Lisa worked in Haiti after the earthquake creating a recycling program and job creation program.
March 20: Deserts of America (Eastern Sierra, Death Valley NP, Anza Borrego, Big Bend NP) with Dr. Shaheen Tonse. Shaheen is a physicist by profession who has a penchant for desert ecology.
April 17: Northern Spain, where it's ancient history, majestic green mountains and blue seas beautifully merge! Talk by Lorena Pena a former native and a travel expert of Basque Country.
May 15: Wildlife and it's natural habitat with wildlife conservationist Amy Gotliffe (tentative)
June 19 (tentative): Patagonia and beyond... With world cruise travelers Bill Oman and Larry Crummer who are currently on their way to their next adventure.
How can the readers get in touch with you?
For information on how to post your travelogues or information on our travel talks, Bkhush readers can reach Caravanserai via:
e-mail: vinaya@caravanserai-travel.com
twitter: Vinaya Gokarn@vinaya_gokarn