Submitted by
jkhera
on Tue, 04/08/2014 - 16:51
Posted in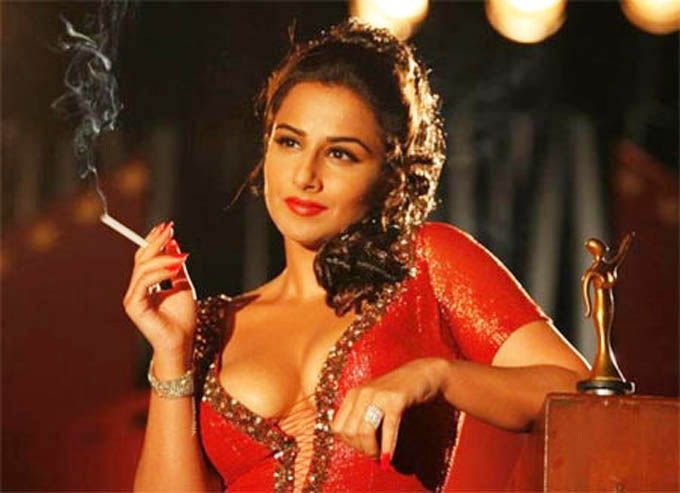 She smokes, drinks, cusses occasionally, unabashedly flaunts her sexuality, does not mind making out on the first date - she is single, independent, street-smart, living life to the hilt - meet the new Hindi film heroine!
Films are said to be the mirror of society, a chronicle of our times - they reflect what is going on around us, even if exaggerated and dramatized with parts zoomed in and magnified. Occasionally they lead our time, or play catch-up and be regressive! From their silent beginning in early 1900s, Hindi films have surely come a long way.
One big change is the portrayal of physical intimacy on screen. Gone are the days of twin flowers popping up all joined up (depicting the lip-locking of hero and heroine)! Took me a while to figure out the significance of this familiar sequence that we grew up watching in weekly Thursday chitrahaar or Sunday movie on TV! Virtually every film in the 70s and 80s had this, with the heroine coyly averting her lips and face after the famous interlude! As sexuality becomes less taboo a subject in India, so do Hindi films and its characters less hypocritical.
The role of women in Hindi films however has not steadily evolved. We did have stalwarts like Meena Kumari, Nutan, Madhubala early on, but mostly relegated to self-sacrificing, sappy, submissive roles. There was a rare Mother india where Nargis in a non glamorous role of a poor, desolate yet strong mother completely overshadowed the male characters. All through 70s and 80s women were just sweet nothings to larger than life angry hunks, with a separate slot for sexy vamps doing cabarets in villain's den (today's item numbers). With the parallel cinema movement, more powerful women and stories were seen as played by the likes of Rekha, Shabana Azmi, and Smita Patil. Be it the poignant story of a beautiful courtesan in Umrao Jaan, or Shyam Benegal's earthy art cinema, women were the heroes of these films.
As we celebrate 100 years of Indian cinema, a lot seems to have changed.. Hindi films truly have arrived in every corner of the world, and in every way it seems to be the golden age of cinema. All kinds of films are being made, with content being the king! New writers, directors are emerging every day thinking out of the box and making movies away from the formula or masala film genre. There are the crores club blockbuster movies still driven by star heroes, but there is also a space for content rich cinema.
What is truly perceptible is the coming into her own of the female lead character in these movies. No longer only reduced to hero's sidekick she is a whole different woman now – gone is the shy demure young lady of yore forever under the shadow of the patriarch – it is hero's turn to be coy now!
Nothing depicts the changing female lead character than two of the latest films - Shuddh Desi Romance and Sanjay leela Bhansali's Ram-Leela! The milieu and the setting of two movies is worlds apart but it is obvious, the spunky Leela and effervescent Gayatri are two peas in a pod! Both are independent strong-willed women not afraid of their sexuality but openly flaunting it! Deepika's sultry Leela is a fierce beauty with passion dripping from head to toe. She oozes sexiness and daredevil like never seen before! In love alright, but there is no mistaking the lust in her eyes for Ram! We watch with our mouths agape as she implants a full-bodied kiss on unsuspecting Ram's lips in their very first encounter, leaving him as taken aback as us with her bold display! When they elope, she is eager to get married and celebrate the suhaag-raat than the preoccupied Ram! She openly rebels even as she mopes around when the duo are separated by vicious enemy clans, letting her finger chopped off instead of removing Ram's ring! Gross yes but that is Bhansali's fictitious world - the woman dressed in ghagra-choli in there though is no seedhi-saadi gaon ki gori!
If Ram-Leela was a macabre Romeo and Juliet, Shuddh Desi Romance is a lightweight, contemporary take on romance and commitment in modern day India. Not your typical run-of the mill juvenile love saga, it is truly a revelation. Right from the un-synthetic setting to an utterly convincing Rishi Kapoor running the business of arranging fake baratis! We are all aware of the famous male commitment-phobia and penchant for physical vs. the clingy emotional female. So it brings in a chuckle as the roles are reversed here! Meet Gayatri, the wise-beyond-her-years, straight-talking, open to live-in, pre-marital sex, but shy of commitment! She meets our naïve hero Raghu in his own wedding, as a fake barati and sweeps him of his feet without meaning to! Just like Leela she has no qualms about necking the guy in their first meet, leaving him baffled and coy, and wanting for more! She has had several boyfriends before, is afraid to commit, and dumps Raghu soon as the relationship gets serious. The best part is all this is not happening in a metro city of Delhi or Bombay - Gayatri is a small town girl - living-in with her boyfriend in Jaipur, Rajasthan!
So is this the new Indian woman - sexy bold independent, is this the new India where live-in and pre-marital sex is openly acceptable even in small towns!Like it or not this new avatar of Indian woman is here to stay. She may fumble along the way, make mistakes, choose unwisely, but it is her life and she will live it by her own rules – right or wrong! All we can say is more power to her – on celluloid, and in real life.
------------------------------------------------------------------------------------------------
About the Author : Jyoti is a freelance writer based in San Jose. A software professional in her previous life, she is a thinker, dreamer, a left-brainer trying to evolve as the right one! She writes about films, food, and social issues. She is very concerned and vocal about issues pertaining to Indian politics, governance, and media.
Image Courtesy : www.bestmediainfo.com